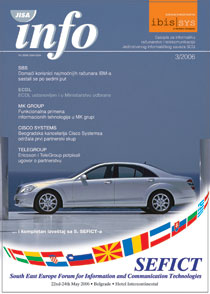 ---
From content 3/06 we highlight:
Telekom Serbia in line with European standards
The ECDL Agreement between Telekom Serbia and The Union of ICT Societies (JISA) was signed on June 2 this year. The Agreement indicates that over 2000 employees in Telekom will go through a training and testing process with the aim to get ECDL certificate. This should bring closer this company to the European and world standards of the basic computer education.

European Computer Driving Licence, ECDL, is the most frequent world certificate for computer users, which was issued eight years ago by European Union for its members, but in short time it was accepted by the other countries in the world, and Serbia too.
---
ECDL at the Ministry of Defence
By the Act of Internal Organization and System of Job Positions at the Ministry of Defence, one of the requirements for the majority of jobs is computer literacy. In the system of defence, up to now, there have been no standards in place in this area. Following the European model, ECDL (European Computer Driving Licence) standard has been introduced.

ECDL is internationaly accepted certificate, which guarantees computer literacy world ECDL standard. Because of the huge success that ECDL achieved in Europe, the program was expanded onto the whole world and became International Computer Driving Licence, ICDL.
---
SBS: Users of the most powerfull IBM computers for the 7th time in Serbia
Traditional meeteng of the users of the largest IBM computers in Serbia, earlier known as MVS conference, this year was held from May 24-27 as 'Z Conference', from May 24-27. It took place at the 'Jugopetrol' hotel on Zlatibor mountain, and the host of the Conference was the Postal Saving Bank.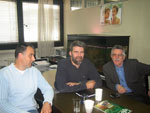 We have received the details about this Conference from Mr Predrag Stojanovic, an adviser for projects of particular importance in this company. He sad that on the conference there was about 80 participants from 17 companies. Beside IBM-a, SBS-a and others as users participated Statistical Office of the Republic of Serbia, Customs administration, ŽTP Beograd, NIS Jugopetrol, NIS a.d. and NIS Naftagas Novi Sad, Postal Saving Bank, Komercijalna banka, PTT Srbija, Naftagas promet, Zajednički informacioni sistem Beograda, Kredibanka Kragujevac...



---
MDS – the top communication partner

Communication technologies like internet and mobile telephony, have been for a long time a part of everyday life and they represent a basic tool for modern business. New technologies carry progress and push the world of telecommunications towards IP networks and integration of multi-function systems. The MDS Informatics Engineering is one of the leading companies in IP communication area. As the only certified Cisco Silver Partner, MDS has been offering for a long time the leatest products and solutions in the field of telecommunications from the world leader – The Cisco Systems Company.
Lots of projects, skilled workers and huge IP telecommunication equipment turnover resulted with numerous awards and business succes.
---
The Cisco Systems Representative Belgrade Office held its first Partnership Summit
This year, the Cisco Systems Representative Belgrade Office organized a summit where only their business partners were invited. 'The Serbian Partnership Summit' took place from May 25-26 at the Breg House in Vršac.
This summit was targeted to the national business partners who could associate with members of Cisco Systems Representative Belgrade Office like Istvan Papp, general manager for Adriatic region, Agnes Balasz, regional Channel Account manager for Adriatic region, Dariusz Hawkins, support manager from Customer Advocacy team, John Michaelis, project manager for Shared Support and Igor Sikorski, Sales Busines Development manager.

Many took this opportunity to meet with Istvan Papp and Miloš Đurković, manager of the Belgrade Representative Office.
---
Cisco shooting first in Frankfurt
High accessible communication network of Commerzbank-Arena stadium is ready for further growth.
Cisco Systems announced by the beginning of June that Commerzbank-Arena in Frankfurt will be equiped with fully new network infrastructure which will provide data transmitting and IP telephony and wireless communication services during the FIFA World Cup 2006.

System was installed in only four weeks in cooperation with T-Systems, Gold partner of Cisco Systems, so Stadium Frankfurt Management (SFM) could hand over the stadium to FIFA organization on May 26 2006.
---
Cisco Systems awarded Pexim Solutions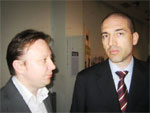 On the global technological conference, Cisco Partner Summit 2006, which took place in San Diego, California, the Cisco Systems company has given awards to chosen partners for extraordinary resaults in the safety and distribution area and on the small and medium enterprises market.

In Central and Eastern Europe Pexim Solutions company, partner of the Cisco Systems Serbia and Montenegro got the award.
---
SAP and USAID continue succesfull cooperation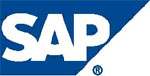 Representatives of numerous local companies attended one-day SAP NetWeaver workshop.
After IT Banking Trends Today Seminar, which was held by the and of the March, SAP Office for West Balkans continued cooperation with the United States Agency for International Development, USAID by Serbian Enterprise Development Project, SEDP.
This one-day workshop took place on June 19 in USAID office in Belgrade. Selected (IT) companies from Serbia attended its work: Megatrend a.d. Niš; SAGA d.o.o.; Energodata; IBIS Sys – a Siemens company; MK Commerce; Prozone d.o.o.; Soprex and many others.
---
Ibis Sys a Siemens company on Technobank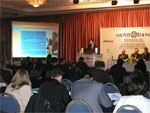 IBIS Sys a Siemens company, part of Siemens Business Services, one of the biggest IT services producer in the world, presented the latest soultion on the 6th Conference and on the exibition Tehnobank 2006 SEE Card Forum & Expo 2006 which took place on May 10 and 11 in Belgrade.
The company has on Tehnobank, together with its partners, companies SAP and Fujitsu Siemens Computers, shown the latest IT solutions and services for banks and financial institutions, and gave six lectures.

Customer Relationship Management Strategy and not IT
Customer Relationship Management is support to complete methodology of customer relations in all modern business areas, foremost in financial sector.
---
High level of consulting services in implementation of SAP solutions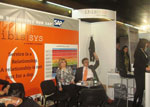 Strategic partnership of the SAP i Siemens Business Services lasts over 25 years. Due to work on shared projects SBS has got a great experience which allows it to give its users the best solutions for all problems concerning SAP.

That includes consulting and implementation, global support for SAP aplications (throught SBS centers for data processing), so as selling licences for SAP solutions which are in connection with SBS services. The SAP - SBS partnership is refered to Supply Chain Management, Enterprise Resource Planning, Customer Relationship Management, Systems Integration and Outsourcing.

---
Fujitsu Siemens and Cisco Systems technological cooperation
Integrated superior solutions for rapid data ceneters evolution in big companies.
On the Cisco Expo manifestation, which took place in the second week of May in Berlin, Fujitsu Siemens Computers and Cisco Systems signed on the Agreement of technological cooperation which should speed up the current trend of network segments integration and data center management in big enterprises.

The companies agreed to work together on combined data center products production. By merging key network, server, aplicative and warehouse components, clients get simplified solution integration and additional economical eficiency of dynamic data center. Global technological cooperation has already started by signing on the Agreement.
---
Pexim system installation group
Pexim Solutions is known in Serbia as a software company, a company for banking sector soultions. But Pexim is system integrator with long experience and great number of references. Beside software solution developing, within the company there is a group for Advanced Infrastructure Services (AIS). The group cooperates with the world leading companies as Cisco Systems, IBM, EMC2 i Microsoft. Cisco Solutions Partner Award for Central and Eastern Europe, Cisco Silver Partner Certificate are clearly showing its succes. Microsoft Gold Partner status has been realized on the basis on banking sector projects. With EMC2 they have Service Partner status and Pexim is one of the greatest partners in the region. Great number of Pexim's engineers has Cisco Systems, IBM, Microsoft, EMC2 certificates. Scope and quality of solutions can be shown throught projects, so we will illustrate some of AIS's solutions.
---
Pexim Cardinfo general sponsor of Tehnobank 2006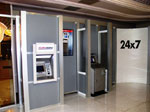 Pexim Cardinfo Company was founded to offer full solutions for credit card business in banking sector. By delivery of products and services, by credit card infrastructure building and by simplifying of financial institutions business processes, Pexim Cardinfo provide its usres to focus on the main activity, to reduce expences and to increase profit.
In tight collaboration with partners, Pexim Cardinfo offers Wincor Nixdorf cash machines and infoterminals, Hypercom POS terminals, TietoEnator Card Management Software, encoding and data protection units produced by Thales, so as support, maitaining and infrastructure instalation services.
On May 10 and 11 in Belgrade took place the International conference and exibition of greatest IT companies that offer new business solutions for banks, insurance companies and other financial organizations, Tehnobank 2006. General sponsor was Pexim Cardinfo. Together with Pexim Solutions, Pexim Cardinfo presented its products and services.
---
5th SEFICT an 11th Congess Jisa took place in Belgrade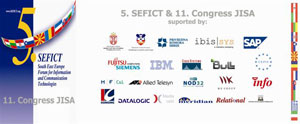 Fifth international conference of representatives of informational and communication technologies from ex-Yugoslavia took place in Belgrade, from May 22-24. Beside achievments from Slovenia, Croatia, Macedonia, Montenegro and Bosnia and Herzegovina, we had an opportunity to see a great number of achievments from all over the world: Australia, Argentina, Tunisia, Lithuania, England, Belgium, France, Germany, Austria, Italy, Greece, Hungary, Bulgaria etc.
All greatest ICT equipment and services ponuđači ICT were present on this conference: SAP, IBIS Sys a Siemens Company, IBM, Fujistu Siemens Computers, Cisco Systems, Allied Telesyn, Bull, Microsoft, S&T, Oracle and many others. From national institutions SEFICT was sponsored by the Ministry of trade and tourism, Belgarde Chamber of Commerce and Serbian Chamber of Commerce.
---
IBM: Service Oriented Achitecture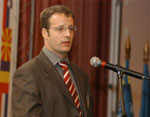 IBM, the world leader in IT solutions, presented its SOA solution on 5th SEFICT. Fast market changes require fast business changes. Service Oriented Achitecture, SOA, is a trend and the future of IT. It provides to modern business systems product, service and business models innovation.

IBM's concept of Service Oriented Architecture starts from business needs. Business is the user of IT and it defines needs for IT. Mercer's study on over 1000 tested shows that there are three basic things, and they are: people, process and information. The starting point for Service oriented architecture is one of these three factors, or their combination.
---
MK Group: Functional use of IT in MK Group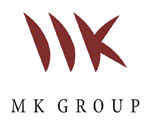 MK group is a business system with 18 connected companies, with 3000 employees. This great system is well-known in Serbia, and the heart of the system is MK Commerce, which was founded more than 15 years ago. History of MK Commerce is the history of a small company which started working in 1989. Today, it is one of the most succesful companies in private sector. Its main activities are sugar production and trade. In the last few years it has expanded its activities on some other branches of agro-business, but as well on transportation where MK Commerce owns 80 trucks. Great business expanding was accompanied by continuous technical - technological progress...
Managment of the company invests in IT infrastructure and in modern informational system. After many analysis, the final decision was – SAP. SAP is the most famous business aplicative software – the informational system which is fully integrated and flexible and has solutions for every user in every business situation.
---
Geneko: Spark, Remote Management and Control System for UPS units
Uninterruptible Power Supply (UPS) Control is necessary for all systems which have to work 24 hours a day, seven days a week. These are, beside telecommunication and safety systems, systems in health institutions, banks and big companies. UPS units provide supply continuity and quality, but they need to be supervized 25 hours a day...
Sistem Spark provides uninterrupted UPS units supervision and it does not require employees presence because it notifies them the critical situation by mobile phone network and internet. With this system the user can control all values that are important for UPS units functioning. The system is based on GPRS Spark terminal which provides two-way data transmission by GSM network using GPRS service. The user can control the UPS unit remotly.
---
Algotech: Customer Relationship Managament
Customer Relationship Managament (CRM) is one of the dominating syntagms on this year Belgrade business meetings. One of the reasons is the First CRM and Call Centers conference which took place on April 26 in Belgrade.
This international manifestation gathered experts and professionals from all over Balkan, as well some world experts gave lectures. Algotech company was sponsor of the conference and this company presented its solutions for Call Centers and CRM.

---
Ericsson and TeleGroup signed on the Partnership agreement
Recognition to domestic quality
With the partnership with the TeleGroup, from september on our market will be present the latest communication solutions of this ICT giant, which provide communication conjoint and great savings in operative business costs.
With this agreement TeleGroup is authorized for solution and application realization, as well as for distribution of Ericsson's products for business systems and users of the private telecommunication networks, no matter whether they are utility companies, non-governmental organizations, big buseiness systems or small and medium private enterprises.
---
Fotona: Laser – efikasno i minimalno invazivno sredstvo za lečenje proširenih vena
Proširene vene na nogama su bolest od koje pati veliki broj ljudi, po međunarodnim statistikama i do 45% celokupne populacije u starosti od 35 do 65 godina (od toga su oko 30% žene i oko 15% muškarci). U američkim podacima se navodi da od proširenih vena pati oko 100 miliona amerikanaca, te da tamo godišnje izvode oko jedan milion operativnih zahvata na venama. Podaci iz Velike Britanije govore o preko 40.000 operacija godišnje.

Metode lečenja
Pošto se venski zalisci ne mogu popraviti, niti hirurški zameniti, jedini način lečenja proširenih vena je u njihovom zatvaranju ili uklanjanju iz krvotoka, čime se onemogućava prevelik dotok venske krvi u duboki venski sistem i komplikacije koje su s time povezane.
Novije su endovenske metode i to radiofrekventna i laserska, kod kojih se u venu ulazi kateterom, te se vena iznutra termički obrađuje tako da se prouzrokuje upala i sakupljanje, što uz koagulaciju krvi unutar tako upaljene vene dovodi do njenog zatvaranja i postepenog pretvaranja u vezivno tkivo.
---
Špica centar: Sistem za evidenciju rednog vremena – više "za" nego "protiv"

Špica je kompanija sa sedamnaestogodišnjim iskustvom u implementaciji sistema za evidenciju radnog vremena i kontrolu pristupa. Sistem Time&Space broji 2100 instalacija u 17 država, mahom evropskih i bliskoistočnih. Za to vreme, razgovarajući sa svojim kupcima, nailazili smo na različite stavove o ekonomskoj opravdanosti investiranja u takav sistem. Posebno su interesantna gledanja čelnih ljudi kompanija koje su odustale od implementacije, a nabrojaćemo tipične nesporazume do kojih je dolazilo.
"Mi smo premali, ne isplati se"

Koliko preduzeće treba da bude malo pa da nas upotreba sistema ne interesuje? Verovatno se ne radi o veličini, već o klasičnom pitanju isplativosti investicije! Analize koje su urađene nebrojeno puta svuda po svetu, uvek iznova spuštaju granicu isplativosti sistema za evidenciju radnog vremena.

U stvari, radi se o jednom od najčešćih ulaganja sa brzim i efektivnim vraćanjem uloženih sredstava. Formula je jednostavna: Koliko minuta dnevno možemo da uštedimo automatizovanom evidencijom?

To pomnožimo sa brojem zaposlenih, zatim sa brojem radnih dana u godini i još sa prosečnom bruto cenom radnog sata... Kada jednom to izračunamo, više nije čudno da se sistemi za evidenciju radnog vremena sve češće instaliraju i u veoma malim preduzećima, čak i sa manje od 5 zaposlenih.
---
CONTENT 3/06
| | | |
| --- | --- | --- |
| ECDL | | Telekom Serbia in line with European standards |
| ECDL | | ECDL at the Ministry of Defence |
| SBS | | SBS: Users of the most powerfull IBM computers for the 7th time in Serbia |
| MDS | | MDS – the top communication partner |
| MDS | | Succesfully realized project in PTT Srbija.net |
| CISCO SYSTEMS | | The Cisco Systems Representative Belgrade Office held its first Partnership Summit |
| CISCO SYSTEMS | | Cisco shooting first in Frankfurt |
| PEXIM | | Cisco Systems awarded Pexim Solutions |
| SAP | | SAP and USAID continue succesfull cooperation |
| BANCA INTESA | | Fourth MasterCard anniverasary celebrated with introducing of new Card |
| HP | | HP expanded its business notebook computers offer |
| IBIS-SYS | | Ibis Sys a Siemens company at Technobank IBIS-SYS has held traditionall annual summit |
| FUJITSU SIEMENS | | Integradted superioir solutions for fast data center evolution in large companies |
| PEXIM | | Pexim system installation group |
| PEXIM CARDINFO | | Pexim Cardinfo general sponsor of Tehnobank 2006 |
| SEFICT | | 5th SEFICT an 11th Congess Jisa took place in Belgrade |
| IBM | | Service Oriented Achitecture |
| MK GROUP | | Functional use of IT in MK Group |
| GENERAL EKONOMIK SPARK | | SPARK, Remote Management and Control System for UPS units |
| ALGOTECH | | Customer Relationship Managament |
| TELEGROUP | | TeleGroup for ten years in Republika Srpska |
| TELEGROUP | | Payed tribute for national quality |
| FOTONA | | Laser – effective mean for vein healing |
| ŠPICA | | Systems for time attendance |
| VESIMPEX | | Integral IT centers equip |
| | | AMJ Module Cat.6+ |
| | | Rimatrix5 driving IT - performance |
| SIP | | Smart card personalization – EMV NBS solution |
| ŽTP | | Online IS operative railroad transportation management and supervision |
| BEOTELNET | | ADSL |
| INFOTECH | | Serbia as information society |
| INFOTECH | | IBIS-SYS a Siemens company on Infoteh 2006. |
| ENERGOSOFT | | Energosoft celebrated 14th anniversary |
| PKS | | Serbian economy's portal |
| DIRECT LINK | | Luxurious expirience of luxurious brand |
| IRITEL | | SIP – Megaco call analysis in VoIP telephone network |
| SOPHOS | | Complete protection integrated in a product– Sophos Endpoint Security |
| RAD | | Advantage of Object Query language over Structured Query language (Ljubiša Đurković, dipl.eng. Technosteel, Nikšić) |
| TKR | | Joining EU for 5th time main subject on sceintific summit Technology, Culture and Progress |
---
---