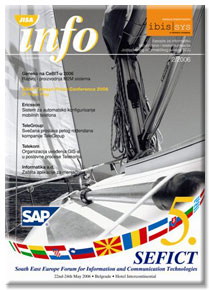 ---
From content 2/06 we highlight:
ECDL in banking
Within the third international fair of banking, equipment, services and insurance Bank Expo 2006, the expert seminar The Technology in Banking was organized by the Bovan Consulting company, which carried out educational part of the fair manifestation. One of the most important subjects this year in Europe – enhancing of the educational level of computer knowledge of employees, was the key issue of this seminar.
Djordje Dukic, the secretary general of JISA and expert for general information education, with a view to comply with European and world standards, lectured ECDL in banking. Stevan Hartarevic, expert for ECDL Advanced Program and manager of the Program ECDL in EFG – National Savings Bank presented experiences of National Savings Bank.
---
---
The Network of Meridian Bank is protected by itself, due to Cisco Systems equipment

Safety solutions of The Cisco Systems gives to Meridian Bank and its clients more safety with offered services, no matter if they were used in a branch office or via internet. As a conclusion Mr. Selesi from IT sector of Meridian Bank adds that with antivirus software and foregoing generation of The Cisco equipment, good protection has been obtained, while with new safety solutions of The Cisco Systems "our network is firmer and safer".
---
---
IBM has opened the LINUX Center at the Faculty of Organizational Sciences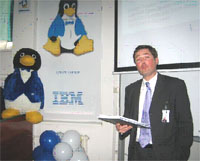 At the Faculty of Organizational Sciences, on March 21, the first IBM Linux Center in South Eastern Europe was opened. The Center was opened by the Minister of Science and Ecology, Mr. Aleksandar Popovic. Beside him, representatives of ministries, numerous faculties of Belgrade University, as well as representatives of economic and scientific institutions and medias were present.

The Center will allow the clients, students, programmers and business partners in Serbia to directly experience and try Linux and to explore possibilities of open computer science based on standards.
---
---
Ericsson - System for Automatic Device Configuration
Ericsson's System for Automatic Device Configuration (ADC) allows a mobile telephony operator to automaticly detect users, to configure their telephones through "over-the-air" (OTA) and to activate certain services like WAP, GPRS, MMS, E-mail, Streaming, Push-to-talk, internet exploring, within the network of mobile operator. Alao, the ADC System offers mobile operator to see what type of cellphone the users are using, which gives them posibility to send configuration messages or to sendi configuration messeges upon users request.
---
---
Fotona - GEPON Networks – the real solutions for urban communities

Passive Optical Networks (PON) have continious access to the optical communication network all around the world as one of the most economic technical solutions for high-quality, fast, reliable and low-cost optical transfer of contents, so called Triple Play – voice, data and picture), and also "Multiservice" contents. (Zdenko Vizintin). The Alloptic Company – the American partner of Fotona is world leader in GEPON Networks production.
---
---
Geneko on CeBIT- in the year 2006 Progress and production of M2M Systems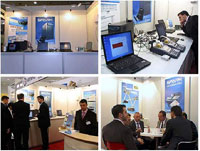 At this year's Fair in Hanover, The Geneko Company presented themselves with a full range of their equipment and solutions. Numerous visitors of this year's biggest world fair of information technologies CeBIT in Hanover had an opportunity to see in the Hall 11 numerous business and commercial solutions and equipment for satellite tracking, navigation, RFID, GPRS/GSM communication via networks of mobile telephony. For the first time, all those producers were in the same space, which was the only important new trend that could be seen this year, the absolute hit of CeBIT. Among the companies who exhibited was Belgrade RB General Economic, or as it is known in the world - Geneko.
---
---
Ibis Sys a Siemens Company: EMC Center – Content Addressed Storage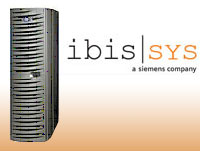 The System of the Center is based on the Content Addressed Storage, CAS. Instead of saving, loading and managing of information on the folder level or logical volume, it is accessed by unique digital signature, which is made specifically for each object. Every change of content automatically initiates setting up a new address. As a result, we have fast access to needed data, easier management, even with data, and guaranteed integrity of contents.
---
---
IDC IT Security Roadshow 2006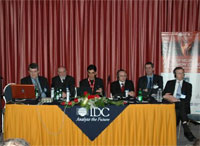 In Belgrade, on March 16, the first IDC Conference took place. The reason behind it was that IDC CEMA has expanded from this year its IT Security Roadshow by involving Ukraine, Turkey, Serbia, South Africa, Israel and Letonia (Latvia).
At the same time, half-day briefings are held in UAE, Qatar, Bahrain, Kuwait, Saudi Arabia and Jordan.
---
---
Poštanska štedionica a.d. sve više unapređuje elektronsko poslovanje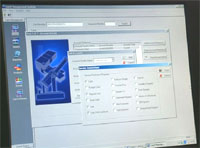 Mnogi ne znaju da je Poštanska štedionica prva jugoslovenska banka koja je jos 1998. godine uvela elektronsko poslovanje preko interneta i to u vreme primene sankcija protiv tadašnje SRJ.
Mr Radmilo Simić, specijalni savetnik Banke, ističe u razgovoru za Info da je Štedionica prve korake u e-bankarstvu napravila uz pomoć strane pameti, ali da je 2001. godine sajt PŠ konvertovan na sasvim drugu platformu, jedinstvenu u bankarskom sistemu u našoj zemlji. Sajt je, po njegovom mišljenju, izvanredan, sa IBM platformom, na kojoj se, koliko je njemu poznato, radi samo u Štedionici.
---
---
Time&Space u elektroenergetskom sektoru
Za implementaciju sistema za evidenciju radnog vremena i kontrolu pristupa u najveće hidroelektrane u Srbiji, kompanija Špica je dobila posebno priznanje Diskobolos 2005 u kategoriji proizvodnje i projektovanja.
---
---
Allied Telesyn Press Conference 2006: 23rd - 25th March 2006, Malta
| | |
| --- | --- |
| | After Cebit, tradicionalna konferencija za novinare kompanije Allied Telesyn, ove godine je organizovana na Malti. Pored promene mesta održavanja, konferencija je promenila i svoj karakter u tom smislu što od ove godine vise nije regionalna (centralna i istočna Evropa), već obuhvata sve evropske zemlje. |
---
---
Svečana proslava petog rođendana kompanije TeleGroup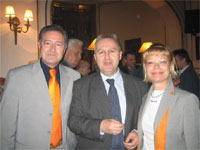 Domaća telekomunikaciona kompanija TeleGroup je sa svojim partnerima i dugogodišnjim prijateljima 6. aprila proslavila pet godina rada i postojanja. TeleGroup je za samo pet godina izrastao u lidera u oblasti informaciono-komunikacionih tehnologija u Srbiji i na području zapadnog Balkana.Danas vodeća domaća kompanija koja svojim klijentima pruža kompletna rešenja za komunikacione sisteme, svoje poslovanje je započela 1. aprila 2001. godine sa svega sedam zaposlenih i početnim kapitalom od pet hiljada dolara. Samo pet godina kasnije, TeleGroup ima 108 zaposlenih i može da se pohvali kapitalom od gotovo četiri miliona dolara.
---
---
Prva konferencija i sajam industrije širokopojasnih veza jugoistočne Evrope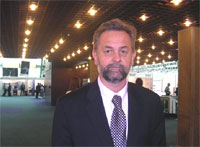 U Beogradu je u centru Sava od 10. do 12. aprila održan skup pod nazivom "The 1st Southeastern Europe Broadband Conference and Expo 2006", prva konferencija, a ujedno i izložba, posvećena širokopojasnim vezama u jugoistočnoj Evropi.Cilj konferencije bio je da učesnicima omogući da se na jednom mestu upoznaju s najnovijim rezultatima razvoja tehnologije širokopojasnih veza, informišu o stanju i planovima razvoja odgovarajuće infrastukture i usluga u regionu, kao i da pomogne u povezivanju ključnih činilaca ove privredne grane – proizvođača opreme i rešenja, operatora fiksne i mobilne telefonije, davalaca internet usluga i korisnika.
---
---
Dobar poslovni uspeh, jos jedan razlog za optimizam
Kad smo zakazali razgovor s Tonijem Rozvadovskim (Tony Rozwadowski), potpredsednikom Fujitsu Siemens Computersa za istočnu Evropu, učinilo mi se da se nas prethodni susret desio pre nekoliko meseci, a ispostavilo se da je prošlo skoro godinu i po (intervju je objavljen u broju 6/2004). U dinamičnoj kompaniji poput ove to je dovoljno vremena za brojne promene i novine (u izdvojenim odeljcima mi smo naveli tek dve najnovije). Pošto je kraj marta i kraj fiskalne godine odlučili smo da razgovor započnemo raspitivanjem o najnovijem podatku..
---
---
CONTENT 2/06
ALLIED TELESYN

IP Triple Play

ECDL  

ECDL in banking

IBM   

IBM has opened the LINUX Center at the Faculty of Organizational Sciences

SAP

In Serbian Post presented SAP project

SAP

SAP and USAID have organized the banking seminar for local IT companies

CISCO SYSTEMS

The Network of Meridian Bank is protected by itself, due to Cisco Systems equipment

MDS

Analysis of traffic control devices usage in Serbian government

EMC

EMC Belgrade Office Anniversary

IBIS-SYS

EMC Center – Content Addressed Storage

POSTAL SAVINGS BANK

Postal Savings Bank develope electronic business

KOMERCIJALNA BANKA

EBRD – shareholder of Serbian Comercial Bank

INFORMATIKA

Money exchange aplication protection- now and then

INFORMATIKA
Ten-year-old champion against computer
BANCA INTESA 
European investment bank loan intended for small and middle enterprises, infrastructure and industry
BANCA INTESA

Banca Intesa Beograd has made shorter way to POS terminals

PEXIM

Pexim in focus of foreign partners

TELEGROUP

Festive Telegroup's fifth birthday celebration

FUJITSU SIEMENS

Good business success- one more reason for optimism

CEBIT

Stronger business orientation

GENERAL EKONOMIK

Geneko on CeBIT- in the year 2006 Progress and production of M2M Systems

ERICSSON

System for Automatic Device Configuration

ŠPICA

Time&Space in electro-energetic sector

IDC

IDC IT Security Roadshow 2006

NETAVIS

Xperts Software intruduced serbian version of NetAvis

FOTONA

GEPON Networks – the real solutions for urban communities

VESIMPEX 

Lampertz Modulated Safes LMS 9.3

Lampertz IT – Security rooms

AMJ Module Cat.6+

UPS, monophased, outgoing power 1- 6 kVA

BEOTELNET
BeotelNet Anniversary
B-LINK 

Belgrade festival of new...

ZLATARA ANDREJEVIĆ

Manufacturing and new technologies

SYMANTEC

ITIPO i Net++ technology presented two new Symantec products

TELEKOM 

Introducing GIS in Telekom business processes

CHRYSLER

Chrysler 300C strenghten its position in Europe with modern diesel engine

QUANTUM

AutoMarket at Belgrade Car show

SIEMENS
Announced winners on Siemens Join
Multimedia 2006 state finals
SIEMENS 

Siemens presented the latest solutions on Southern Europe Broadbend Conference & Expo 20066

SEEBB

First conference and industry fair of broadband south east Europe connections

INFOTEH 

 Nikola Tesla as a symbol of Infoteh Jahorina 2006
---
---