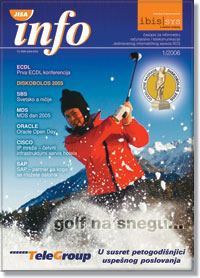 ---
Discobolos 2005
After three months of work, jury composed of 20 experts from Chamber of Commerce, ICT Societies, Universities and Business Enterprises, on December 22, 2005, announced, on ceremony in Intercontinental Hotel, the most valuable informatics solutions of our business enterprises institutions.
---
Oracle Open day

Oracle, the world's largest enterprise software company, has provided the software and services that let organizations get the most up-to-date and accurate information from their business systems. This fact is proved by the number of visitors on Oracle Open day conference sustained in the begin of February.
---
SAP Partners: Safe Passage Partner Initiative

SAP is the recognized leader in providing collaborative business solutions for all types of industries and for every major market.
---
Cisco Systems – IP telephony

Cisco harnesses Internet protocol (IP) to deliver voice communications within the walls of a building or to connect offices around the world. Known as IP telephony, Cisco uses the communications foundation of the Internet to transport voice conversations alongside corporate data. IP telephony requires IP phones, a data network, and gateways to run a company's voice communications.
---
On a new assignment - Interview with Mr. Jozek Gruskovnjak...
---
Contact centre for business future
The biggest success of Algotech, which is lieder in merger of telecommunications solutions for sure is contact centre of Serbian mobile telephony on our market, which is up to date and also the most composite system on Balkan. Some of the domestic testimonials are DHL, EUnet, Delta bank, TetraPak, Hemofarm, Mobtel, Raiffeisen bank ect.
---
Supplementary security for business of transferable computers

Globally, the biggest damages in IT sector are caused by computers viruses.Secound,but not disregard on a "black list" is plunder of removable (notebook) computers. Luckily, there are prod actors and organizations that have solutions for that. American DELL, the biggest computer producers in the world offered a solution – security locker Kensington.
The biggest outlet of company DELL in Serbia, Belgrade Informatics ad., along with Dunav insurance inserted in their offer add – in suitability for buyers. Now, buyers can buy removable computer which is already insured, so they don't have to go to a branch office.
So buyers have two options: basic and supplemental insurance.